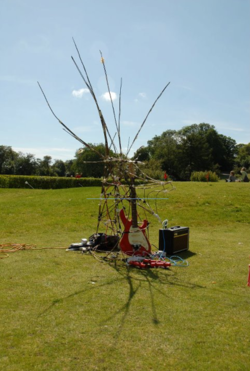 My project for SoundNetwork and Octopus Collective featured an Arduino powered auto-Guitar Stags Head hole made in collaboration with the excellent Chiz Turnross Octopus's FON Festival 2011.
Crazy Golf Hack
was a site specific Artist hackspace and site specific physical computing workshop aiming to extend and support socially engaged contexts for art, technology and new music.
Designed and curated by Ross Dalziel with artists
Chiz Turnross
and
Douglas Laing
This was a family friendly event allowing artists to playfully hack an existing pitch & putt golf course in Barrow Park and bring out its 'inner' crazy golf course. A mix of fun and serious interaction design it allowed artists to learn from each other and collaborate and respond to real world hands on systems like golf courses.